Title:
Get Your Shift Together
Series:
(Bear Bites, #2)
Author:
Ruby Dixon
Genre
: Adult Paranormal Romance Novella
Rating:
4-Stars
Cliffhanger:
No
HEA:
Yes
Review on Goodreads:
HERE
I've been looking for a mate in all the wrong places. When the right one shows up in Pine Falls with a man in tow, I almost miss her. Caroline Abbott is a sweetheart of a city girl who is making one last stab at keeping her (dead) relationship together. When her fool of an ex takes off and leaves her alone in the forest, I'm more than happy to step into his abandoned shoes.





While I can make her shout with pleasure, I worry those screams will turn to fear when she realizes that my hidden half is a bear.





I can't keep the secret much longer, but telling her might scare her off for good.
♥ (Bear Bites, #1)
Shift Out of Luck
♥ (Bear Bites, #2)
Get Your Shift Together
♥ (Bear Bites, #3)
Shift Just Got Real
♥ (Bear Bites, #4)
Does a Bear Shift in the Woods
*Each NOVELLA can be read as a STANDALONE*
Get Your Shift Together
is the second book in Ruby Dixon's newest
(Bear Bites)
series of novellas—wherein
the tiny, off-the-beaten-path town of Pine Falls, which is inhabited by both humans and Shifters...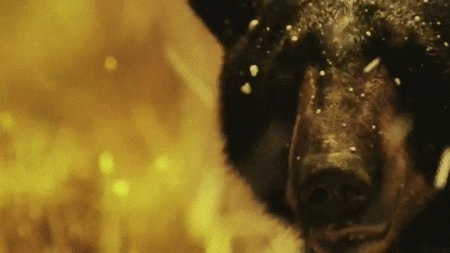 ♠ ♣ ♥ ♦
He kisses my temple and snuggles me against him, but I notice that his hand stays between my legs in a possessive gesture, as if he's guarding what belongs to him.
Bear-shifter Leo
might be a bit of a playboy, but that's only because he's been searching for his mate...so what if it's between-the-sheets?
But when the
sweet, shyly seductive Caroline Abbott
stumbles into Pine Falls,
it's time for Leo to get his shift together
, because Caro wants
true love and truer sex
—even if she has to tape the pieces of the broken relationship she has with her long-time boyfriend, Bill, together.
Though, the tape on their relationship breaks when Bill leaves Caro deep in the woods of Pine Falls. On
an unfamiliar path
, Caro is alone with her thoughts and yearnings for something more.
"I do appreciate you coming to look for me though. That was… sweet."
"Can't let someone as pretty as you get eaten by bears," he teases.
Until Leo steps between the trees, and with a smirk,
shows her the way
...
...into his pants. And
then
home
, in his heart, as his mate.
He growls again, and his thrusts become wild as he anchors me against him and fucks me harder. "Mine," he snarls low in his throat.
♠ ♣ ♥ ♦
Just like its preceder,
Get Your Shift Together
was a well-written, short and smutty novella with shifting (pun intended) POV's,
sexy sex scenes
, and
intriguing characters
.
"Wanna tell me your last name, or do I need to get between your legs and give you some more convincing?"
There were instances were I did yearn for more development/explanation of the
(Bear Bites)
world, as well as its characters—but I still remained satisfied with the story for what it was:
a quick, slightly over-the-top, fun, paranormal romance read.
So overall,
I would recommend
this novella to those who aren't looking to read something serious—instead are hoping for a little smut, a big shifter, and lots of lip-biting smiles...
"That's it," I declare, and turn her over so she's ass up. Sweet little ass, I think, and then slap her hard.
♠ ♣ ♥ ♦
A GREAT KIND OF NONSENSE:
*PS: I was given an copy of this book. But I do solemnly swear that I am up to...good. ;) This is a fair and honest review of this book, pinky promise.*