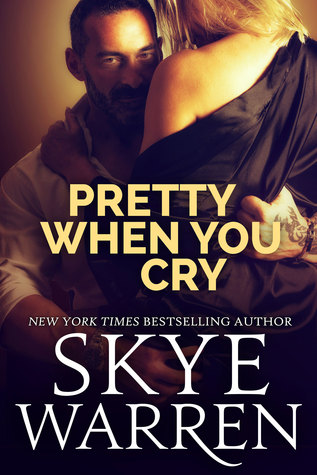 Title:
Pretty When You Cry
Series:
(Stripped, #4—but can be read as a STANDALONE)
Author:
Skye Warren
Genre
: Adult Dark Romance
Rating:
5-Stars
Cliffhanger:
No
HEA:
Yes
Review on Goodreads:
HERE
I came from a place of dirt floors and holy scriptures. They told me the world outside was full of sin, and the first night I escape, I find out it's true. Ivan saves me, but he does more than that. He takes me. He makes me his own girl.

My conditioning runs too deep. Ivan sees what I am.

That's the thing about showing a mouse to a cat. He wants to play. And it's terrifying, even for me. Because the only thing darker than my past is his.
♥ (Stripped, #0.5) Tough Love
♥ (Stripped, #1) Love the Way You Lie
♥ (Stripped, #2) Better When It Hurts
♥ (Stripped, #2.5) Even Better
♥ (Stripped, #3) Pretty When You Cry
Growing up in a secluded religious community,
Candace's childhood trapped her in a cage of sins and punishments.
Rewards were gifted by the Father—but only if she'd been a good little girl.
And so Candace's every breath was tainted with fear, inhaled with the worry of her wrongdoings—
until the night she escaped
, disappeared into the night in hopes of flying free...
"That's what monsters do to pretty little girls. And pretty little girls are expected to fight."
...
only to be encased in the iron bars of Ivan's clutches, his willing victim.
His
words now her law,
his
hands now her punishment, and his way-of-life now her sins—and as those pleasurably painful years tick-by under Ivan's control, Candace forges armor with lace and ruffles, with lipstick and lingerie, with dance and a stripper pole.
With the determination to once and for all,
finally and forever be free
.
Except Ivan's a dark, dominating, depraved man.
He
found her all those years ago,
claimed her as his little girl with every smack of his palm against her ass, with every hushed command against her skin—and he will never, ever let her go
.
Ivan wants to put me in a cage, but what I really want is to fly.
But something even more wicked, even more wanting lurks in the shadows; with blood and bible verses, the past threatens to swallow Candy whole. And if she survives the bite, will Ivan be the one to save her, to encage her again—or will she finally fly free from
all
the chains that bind her?
He pushes my skirt up, and I press my legs together. He pries them apart. "Don't be afraid."

"It's scary." I just don't mean him touching me or fucking me. I mean trusting him to be my Daddy. I mean letting myself be a little girl.
Pretty When You Cry
utterly enraptured me.
Skye Warren's writing always has a way of sucking me into the darkest, dirtiest parts of its soul...but this book was something different—something even
darker
, something even
more
than ever before.
Perhaps it was the characters, and their unconventional, unhealthy, yet deliciously intriguing DD/lg relationship.
Or maybe it was Ivan—who was apologetically, morally corrupt, and oh-so wicked. But that's what bewitched me the most;
his harsh words, ugly soul, and scarred body
. From the beginning to the end of this book, I never understood Ivan—nor did I need to. He simply was who he was;
a Dom, a Daddy, a broken soul who craved the corruption, the control, of another
.
"I corrupted you by giving you pain without the pleasure, by punishing you but never rewarding you. I thought it could keep you safe from my desires, but in the end it only made it worse."
His 'another' being Candy,
his
Candace. With the body of a buxom blonde and the soul, the
heart
of a scared little girl—she's broken.
But the beautiful thing was how her shattered pieces fit perfectly, like a puzzle, into his.
With this book, Skye Warren broke boundaries, shattered dreams, tested limits.
Stripped, #3
made me uncomfortable with its light, and comfortable with its darkness. And I craved—Every. Single. Word—Every achhhhhiiing chapter, of this
wicked-intense, naughty in its allure to the nefariousness
, book...
We are made of the same thing, he and I. Of sin and hope, of power and pleasure.
...this
"dark, perverse, and unbearably erotic"
story about the
past
that binds us, the
future
that cages us, and the
present
strength and grit it takes to spread your wings, break the iron bars, and fly anew.
Pretty When You Cry
will forever remain a favorite read of mine—as it reminds me that there's beauty in depravity, there's passion in hate; there's light in the darkest parts of our hearts, and there's love amongst the damaged bits of our souls...and it can survive.
AS AMAZING AS ALICE'S DREAMS:
*PS: I was given an ARC of this book. But I do solemnly swear that I am up to...good. ;) This is a fair and honest review of this book, pinky promise.*