#REVIEW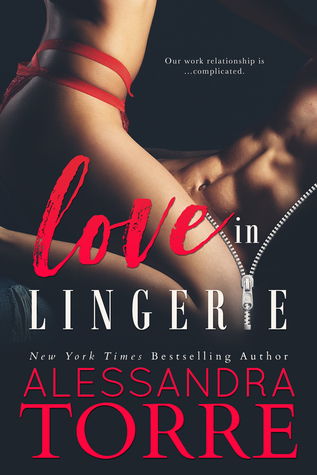 Genres: Adult Contemporar

y Erotic Romance
T
ropes:
Coworkers, Office Romance, F

orbidden Love

,

Friends to Lovers
I hired her to fix my company, to bring Marks Lingerie back to life. I didn't expect her to become my friend. I didn't expect to fall in love with her.

The first rule of business is to never touch your employees. I think there is another rule about not falling for your best friend—a rule against imagining the curves of her body, or the way her breathing would change if I pulled down her panties and unzipped my pants.

Now, I can't wait any longer. I'm tossing out the rules.

Damn the company.
Damn our friendship.
Damn my fears.
Alessandra Torre's book are always so
well-written
, and
Love in Lingerie
was no exception. It was a
slow-burn romance
that
put a match to friendship
,
set fire to desire
, and
blazed into a sexy romance
.
"If our love was lingerie, it'd be a corset, one laced so tightly that it takes your breath."
Trey Marks
was a business owner, and
Kate Martin
was the creative director for his company, Marks Lingerie—which made
Love in Lingerie
a light and sexy, fun and flirty office romance
with just a bit of angst.
If this woman was lingerie, she'd be black leather, with studs along the seams and enough of a dominatrix vibe to give a man pause.
The only reason I'm rating it 3.5-Stars is because I didn't quite connect to Trey and Kate's love as much as I wanted to. It's quite confusing for me actually—since
I love Alessandra's writing style, as well as the friends to lovers and slow-burn romances
.
"If our relationship was lingerie, it'd be fur-lined handcuffs, latched around you, the key lost, escape impossible."
But I think that because the Hero and heroine spent so many years apart, living through love and life, that their
friendship
was more developed than their
romance
...which is probably why I didn't feel that genuine connection between them as
more than just lovers
.
"If my need was lingerie, it'd be blood-red with lines that scream for attention."
Though,
I would still recommend Love in Lingerie
to those who want to read a book that is
like the best, sexiest lingerie
—
fun and sexy
, but it may
take a while to get off
with all the laces and buttons, though
it's well worth the time
spent pulling ribbons and kissing special places. *wink*
Hero:
3.5-Stars
Heroine:
3.5-Stars
Romance:
3.5-Stars
Sex:
5-Stars
Plot:
4-Stars
Dialogue:
5-Stars
Writing:
5-Stars
PS: I was given a complementary copy of this book. But I do solemnly swear that I am up to...good. *wink* This is a fair, honest review and/or rating(s) of this book, pinky promise.