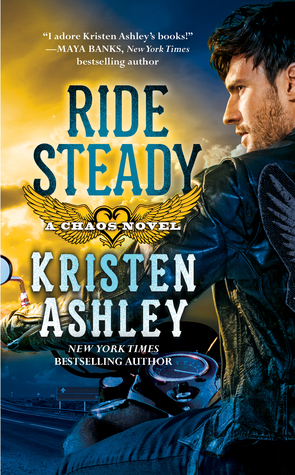 Title: Ride Steady
Series: (Chaos, #3—but can be read as a standalone)
Author: Kristen Ashley
Genre: Adult, Contemporary Romance
Rating: 5-Stars
Cliffhanger: No
HEA: Yes
Review on

Goodreads

: HERE
The ride of her life . . . Once upon a time, Carissa Teodoro believed in happy endings. Money, marriage, motherhood: everything came easy---until she woke up to the ugly truth about her Prince Charming. Now a struggling, single mom and stranded by a flat tire, Carissa's pondering her mistakes when a vaguely familiar knight rides to her rescue on a ton of horsepower.

Climb on and hold tight . . .
In high school, Carson Steele was a bad boy loner who put Carissa on a pedestal where she stayed far beyond his reach. Today, he's the hard-bodied biker known only as Joker, and from the way Carissa's acting, it's clear she's falling fast. While catching her is irresistible, knowing what to do with her is a different story. A good girl like Carissa is the least likely fit with the Chaos Motorcycle Club. Too bad holding back is so damned hard. Now, as Joker's secrets are revealed and an outside threat endangers the club, Joker must decide whether to ride steady with Carissa---or ride away forever . . .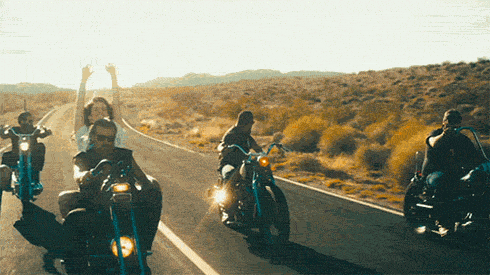 Honestly, there's nothing I can say about this book that hasn't already been said—except that Ride Steady redefined my thoughts on KA's writing.
I've read various other books by her, and really enjoyed them...but there had always been a lil' something missing from them.
But not in Ride Steady—f
*ck no

!
"I think I might be falling in love with you,"…
"Then quit thinkin', Carrie, because I know I'm fallin' for you."
I stared at him a moment, feeling all that made me feel, before lifting my hand and waving it in front of my face, announcing, "I'm gonna cry."
"Then for fucks' sake, get over here so you can be in my arms while you do it."
At that, I burst into tears.
When I did, not moving an inch because he came to me, I was in his arms."
Ride Steady gave me everything I wanted in a MC romance, and more. It was Kristen Ashley at her best. I loved everything there was about Chaos, #3:
—the main characters, Joker and Carissa, and their well-developed, character arcs;
—the tough-and-gruff, manly-man, bad-boy biker's sweet-and-sexy relationship with baby Travis;
"Moomah," Travis mumbled and Joker looked to the kid to see his eyes on the magazine, his fingers twiddling his lip.
"Yeah, son, that's your momma."
Travis looked to him. "Moomah."
"Yeah, boy."
Travis took his fingers from his lip and curled them around Joker's. "Joejoekah."
"Yeah," Joker whispered. "I'm your Joker."
The boy wobbled a second then dropped forward and landed a sloppy, open-mouthed kiss on his hand and Joker's mouth.
He wobbled back.
"Love you too, kid," Joker whispered.
Travis giggled."
—Joker and Carissa's steady, impenetrable relationship, as well as their hot-and-heavy, deepest-love romance;
"Joker!" Fuck yeah. He bent in and went down on her, grasping her hips and pulling her deeper into his mouth as he licked her, ate her, sucked her clit, and tongue-fucked her cunt. She loved it, showed it, her legs clamped around him, her sounds drifting down at him or piercing the room sharply. When she slid the fingers of one hand in his hair and those fingers fisted, her noises coming quick and desperate, her body moving frantically in his hold, he knew she was ready.
—the true-to-life (but also swoon-worthy romantic) dialogue

;
"We all fall on hard times," he said quietly, removing his fist from my chin. "It's just lucky for you that you fell in the right direction."
—the heartwarming storyline;
"I'm in love with your ex-wife," … "I've loved her since high school, man. She means everything to me. You gotta drag her down, that'll suck, but I'll pick her back up. You gotta rip her apart, I'll fuckin' hate watchin' it, but I'll put her back together."
—excreta, excreta...
I could go on and on with what I LOVED—but the quickie-and-dirty point is:
Overall, I would most definitely recommend this ammmmmmmmaaaazzzzzinnnnnnggg book—Ride Steady (Chaos, #3)—written by Kristen Ashely, who has now bumped herself up on my favorite authors list.
*PS: I was given an ARC of this book. But I do solemnly swear that I am up to...good. ;) This is a fair and honest review of this book, pinky promise.*