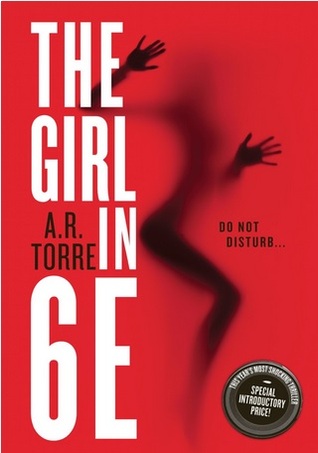 Title:
The Girl in 6E
Series:
(Deanna Madden, #1)
Author:
A.R. Torre
Genres
: Adult Contemporary Erotic Romantic Suspense
Rating:
5-Stars
Cliffhanger:
No
HEA:
HFN
Recommend?
Yes
Review on Blog:
HERE
I haven't touched a human in three years. That seems like it would be a difficult task, but it's not. Not anymore, thanks to the internet.

I am, quite possibly, the most popular recluse ever. Not many shut-ins have a 200-member fan club, a bank account in the seven-figure range, and hundreds of men lining up to pay for undivided attention.

They get satisfaction, I get a distraction. Their secret desires are nothing compared to why I hide... my lust for blood, my love of death.

Taking their money is easy. Keeping all these secrets... one is bound to escape.
♥ (Deanna Madden, #1) The Girl in 6E
♥ (Deanna Madden, #2)
Do Not Disturb
♥ (Deanna Madden, #3)
If You Dare
*Each book can be read as a STANDALONE—although the overall dark, enthralling beauty is best to be enjoyed in order. But be careful; your mind may be too sane to comprehend the madness.*
"

What if you hid yourself away because all you could think of was killing? And what if one girl's life depending on you venturing into society? Enter a world of lies, thrills, fears, and all desires, in this original thriller from A. R. Torre."
Three years ago, Deanna Madden locked herself away—in a run down apartment on floor 6, room E. She hasn't stepped foot outside since, too afraid her wicked thoughts would take control of her mind...and possess her body do terrible, bloody, deathly deeds.
To stifle those desires, Deanna organizes a perfectly controlled environment—
one without sharp objects
except those locked deep in the dark of her safe
and devoid of human contact
except the voice of her psychiatrist, the virtual-sex she has with her clients, and the oh-so tempting UPS man who knocks on her steel door
so the danger she threatens to unleash on society is contained.
"That's the reason I stay away from people. Because I want to kill. Constantly. It's almost all I think about."
But then temptation pushes open the door to 6E, with a bulging...er...package in his tight UPS uniformed-pants and box cutters in his hand...
...very shiny, very
sharp
, box cutters.
And as Deanna tries to control all the desires ravishing her mind, body, and soul—
kisskillfuckfightkisskillfuckfight
—her job in the adult industry as a sex-camgirl lures her out of her prison with the promise of blood on her hands...
"Disappointment in others is tough. But disappointment in yourself is far worse. I'm not expecting others to disappoint me. No—I am my own dream killer."
"The first shrink I had said I have anthropophobia, which is fear of human interaction. Anthropophobia, mixed with an unhealthy dose of dacnomania, which is obsession with murder."
Deanna Madden is unlike any heroine I've ever read.
Her mind goes beyond rationality, beyond the confines of normality
...and to read that unique breed of strength and wickedness, makes for a hellofva page-turner.
Meanwhile, the Hero of this story—Jeremy; Mr. UPS Temptation—is the opposite of Deanna in all ways;
he is light, where she is dark, he is truth, where she is lies, he is normal, while she is not.
Although I thought it was tragically beautiful how Jeremy was Deanna's secret hearts desire. He gave her hope, fed her desires in the best and worst of ways.
"Maybe there is a chance for happiness after all, despite my online slutdom and psychopathic urges."
"He thinks I am weak. He thinks he can manipulate me and subdue me. Kill me. He has no idea that my small frame and delicate features contain an evil that rivals his own. I finger the knife in my pocket and fight to keep a grin off my face. This is it. This is my time."
The plot itself was just...wow. Gripping. Compelling.
Killer-crazy intense.
It made for a journey that was everything and more:
suspenseful, shocking, heartbreaking, and hopeful.
And
A.R. Torre's writing was stunning
; her grip onto he heroine's mind so strong you couldn't help but think all the macabre, sensual thoughts along with Deanna. That, along with the book's multiple POVs, really gave the story an
unparalleled dynamic
that had me gritting my teeth as I turned the pages for
more
more
more
MORE.
"Hope, in general, is dangerous. Hope can be the loose thread that pulls apart your sanity."
Because overall, The Girl in 6E captivated my thoughts and emotions, twisted and turned them into something gruesome and ugly—something I was enthralling to keep reading—while thrusting me me into a dark, erotic world, where a beauty with a wicked mind, broken heart, and ravaged soul, hides among the madness of death and desire.
AS AMAZING AS ALICE'S DREAMS